KabiCare Patient Support Program for
Parenteral Nutrition
Fresenius Kabi has a portfolio of clinical nutrition products to help your critically and chronically ill patients' flourish.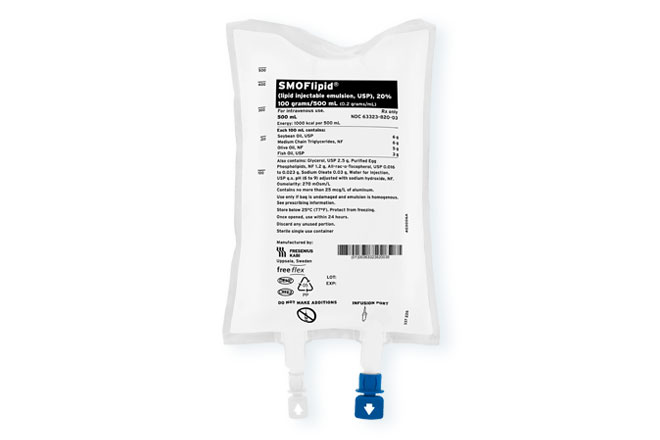 SMOFlipid®Lipid Injectable Emulsion, USP 20%
The first and only four-oil lipid emulsion for adults and pediatrics in the United States.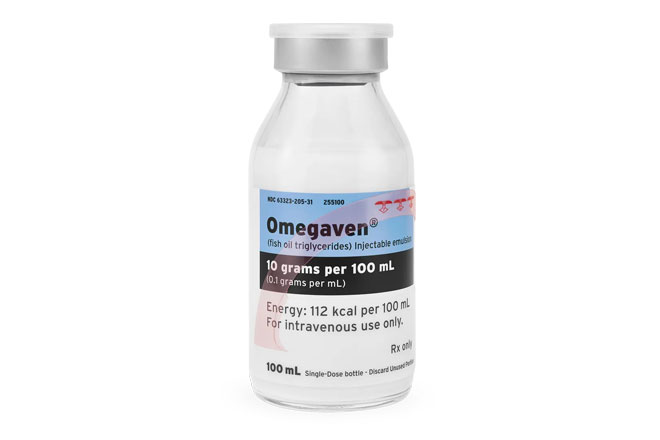 Omegaven® (fish oil triglycerides) injectable emulsion
The first and only fish oil lipid emulsion for pediatric patients with parenteral nutrition-associated cholestasis (PNAC) in the U.S.3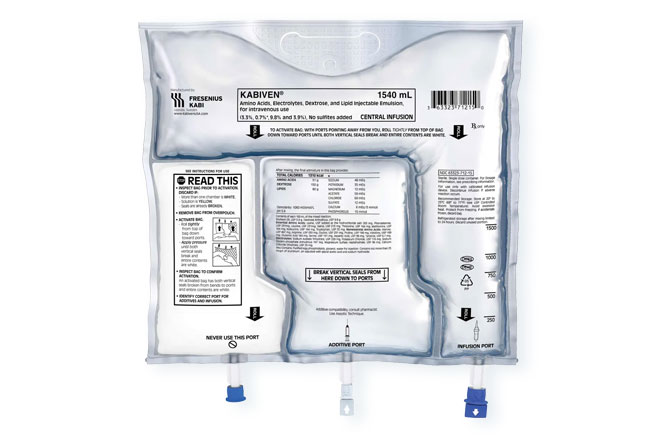 Kabiven® (Amino Acids, Electrolytes, Dextrose, and Lipid Injectable Emulsion), for intravenous use
The Kabiven and Perikabiven three-chamber PN bags efficiently deliver three macronutrients (dextrose, protein, and lipids) plus electrolytes.
---
Parenteral nutrition (PN) is a way to provide nourishment to patients who are unable to absorb nutrients through their digestive system. Protein, carbohydrates, fat, electrolytes, vitamins and other trace elements are delivered intravenously so the nutrients go directly into the bloodstream, bypassing the gut.4
Visit the Fresenius Kabi Nutrition web site to learn more about Parenteral Nutrition.
Program Support Areas
The KabiCare Patient Support Program, developed by Fresenius Kabi, is focused on helping you care for your Parenteral Nutrition patient with a revised and expanded reimbursement support program to help patients get the products they need.
Billing and Coding Support
Kabicare has developed reimbursement resources with the most current CMS guidelines pertaining to reimbursement for parenteral nutrition products.
Click on the product name below to download the latest Billing and Coding Guides.
For help with specific questions or direct educational support please call 1-844‐540‐5224 (KABI) or contact us at info@kabicarenutrition.com.
Insurance Support
KabiCare Parenteral Nutrition support can assist clinicians with Benefit Investigations, Prior Authorizations and Appeals when required. We can review payor specific requirements and identify the necessary information to successfully process the prior authorization. In conjunction with the provider office, the KabiCare support team will also coordinate steps required to complete the process.
If an appeal is appropriate, KabiCare support will identify the payor's process and assist with the necessary documentation to facilitate the appeal.
The KabiCare Parenteral Nutrition support program is available for both providers and their patients. If appropriate, our contact information can be shared with patients who need direct support with their reimbursement questions.
Claims Appeals Support
Helpful resources for insurance processing in your office:
Contact Information
Call: 1-844‐540‐5224 (KABI)
Fax: 1-866-416-7542
E-mail: info@kabicarenutrition.com
References
Omegaven Prescribing Information, Fresenius Kabi USA, LLC.
ASPEN. What is parenteral nutrition. ASPEN website. Accessed March 13, 2020.