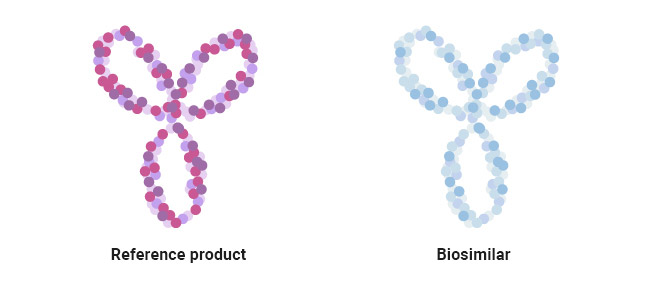 What are biosimilars?
Biosimilars are a highly similar version of an existing FDA-approved biologic drug (also known as the 'reference product') which have no clinically meaningful differences in terms of quality, clinical efficacy and safety.1
What are biosimilars used for?
Biosimilars, like their reference products, are used in many different therapeutic areas including cancer and numerous autoimmune diseases.
Patients can be initiated directly on to a biosimilar drug as the stringent FDA approval process ensures that they pose no additional efficacy or safety concerns compared to the reference product.2 To read more about the FDA approval process, click here (Opens in a New Window).
Patients who are already receiving a different biologic treatment can also be changed or 'switched' to a biosimilar – learn more about this process here (Opens in a New Window).
Why are biosimilars important?
Biosimilars may offer a lower-cost treatment option, broadening patient access and potentially allowing patients to initiate biologic therapy at earlier stages in the treatment cycle.3
Through promoting health care cost savings, biosimilars may aid in reallocating resources to other areas of the health care system.4 Just 2% of people in the US use biologics, but they still make up 40% of the total prescription drug spending.5 Biosimilars may therefore enable physicians to adhere more closely to clinical treatment guidelines and allow payer reimbursement of innovative medicines.3,6
Are biosimilars safe?
To obtain FDA regulatory approval, biosimilars must demonstrate high structural and functional similarity to the reference product.7 Extensive comparator studies encompassing analytical, animal and clinical studies assess toxicity, pharmacokinetics (PK), pharmacodynamics (PD) and immunogenicity of both biosimilar and reference product.7 Only minor differences in clinically inactive components are tolerated.7
Health care providers and patients can therefore expect the same efficacy and safety from a biosimilar as they can from the reference product.3 Following approval, the biosimilar must also undergo any additional specific safety monitoring required for the reference product.3
Development of Fresenius Kabi biosimilars
Equipped with global expertise in biologic development and manufacturing, Fresenius Kabi applies the same high-quality standards to developing and producing biosimilars that are required for the development of reference products.
We bring years of pharmaceutical experience and technical knowledge to ensure the production of a consistent, high-quality product.