KabiCare Patient Support Program for
Hypoglycemia (Low Blood Sugar)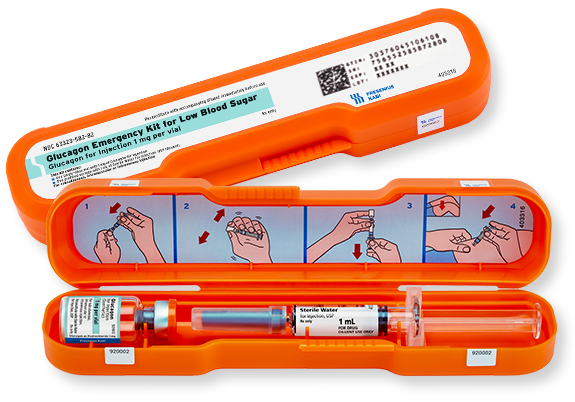 Glucagon Emergency Kit
The Glucagon Emergency Kit from Fresenius Kabi is an FDA-approved and cost-effective alternative to treat severe hypoglycemic episodes in people with diabetes.
Learn more about Glucagon Emergency Kit.
Important Safety Information
Program Support Areas
Fresenius Kabi, through its KabiCare Patient Support Program, is focused on helping you care for your patients with diabetes who experience unexpected episodes of severe hypoglycemia. Explore the support programs available with Glucagon Emergency Kit.
Commercial Copay Support
If your patient has commercial or private insurance, they may be eligible* for the copay program that lowers their out-of-pocket costs to
as little as $5/month for treatment with an annual maximum. For more information, contact KabiCare (1.833.522.4227)
Download the Glucagon Emergency Kit Savings Card*
* Eligibility criteria apply. Patients are not eligible for commercial copay assistance support if the prescription is eligible to be reimbursed, in whole or in part, by any state or federal healthcare program.
Hypoglycemia (Low Blood Sugar) Resources
Discover the resources available from Fresenius Kabi for patients who are prescribed Glucagon:
Be in the Know
Don't let the low sneak up. For patients with diabetes, blood sugar can drop very low without warning. Here are some tools and resources available to share with your patients: Glucagon Tools and Resources
Information for Caregivers
The Glucagon Emergency Kit website offers a concise overview of how to respond to a severe hypoglycemic episode.